AC Diastasis binder
Safe and effective
100% made in the USA
Ships free
Breathable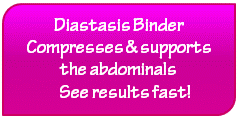 Description
Feel results after its first use.
Backed by our 30-day no-questions-asked return policy.
Our exclusive AC Diastasis Binder is used regularly as part of The 6 Step Program. It limits potentially hazardous movements and provides back support to help carry out daily activities.
It's designed using a unique and hi tech material which allows complete ventilation without compromising support or creating excessive heat.
The AC Binder phase 1 is an indispensable tool in assisting with abdominal Recovery for all women seeking to regain their abdominal integrity postnatal.
Additional info
Sizing Information The AC Binder comes in 5 sizes. to select the correct size measure your waist prior to purchase. If you are within 1" of the smaller size we suggest CHOOSING FROM the lower end as your waist will slim over the course of The 6 month program. XS Fits waist size 22" – 28" S Fits waist size 29" – 35" M Fits waist size 36" – 42" L Fits waist size 42" – 48" XL Fits waist size 48"- 52"
Instructions for wear
Identify the inside and outside of the AC Binder by locating the silicone strip that runs along the inside.
Place the silicone strip side behind your back and grab both ends of the binder. (try to keep the binder even on both sides)
Bend your knees and pull the navel in and back to find your abdominal connection
Bring both sides of the binder evenly around your waist and then overlap to secure the Velcro strips (try to keep the binder level as you secure the Velcro, one side should not be lower than the other)
Keeping your alignment grab hold of the elastic bands on either side of the waist.
Identify which end is higher and which is lower. Pulling both sides evenly; as though you are pulling the sides of your waist together lay the elastic flat and attach the Velcro to secure. (the elastic should not overlap but lie one above the other)